Urban Education Conference: ELL Education Tuesday, October 25, 2016 8:00 am – 4:30 pm Buffalo Marriott Niagara Hotel 1340 Millersport Hwy, Buffalo, NY The Terra Conference on English Language Learners (ELLs), organized in cooperation with the departments of Educational Leadership and Policy and Learning and Instruction at the Graduate School of Education, University at Buffalo, […]
Urban Education Conference: ELL Education
Tuesday, October 25, 2016
8:00 am – 4:30 pm
Buffalo Marriott Niagara Hotel
1340 Millersport Hwy, Buffalo, NY
The Terra Conference on English Language Learners (ELLs), organized in cooperation with the departments of Educational Leadership and Policy and Learning and Instruction at the Graduate School of Education, University at Buffalo, is on Tuesday, October 25 at the Buffalo Marriott Hotel.
This conference provides opportunities for teachers, administrators and future teachers in Western New York to network and share innovative ideas and best practices in the field of English language learning.
Panelists will include professors from major research institutions nationally and locally, as well as practitioners at the top of the education field. UB's own Professor Janina Brutt-Griffler and members of her research team will present initial findings from a study funded by a Terra grant that explores best practices for English language learners in one of the Buffalo Public Schools.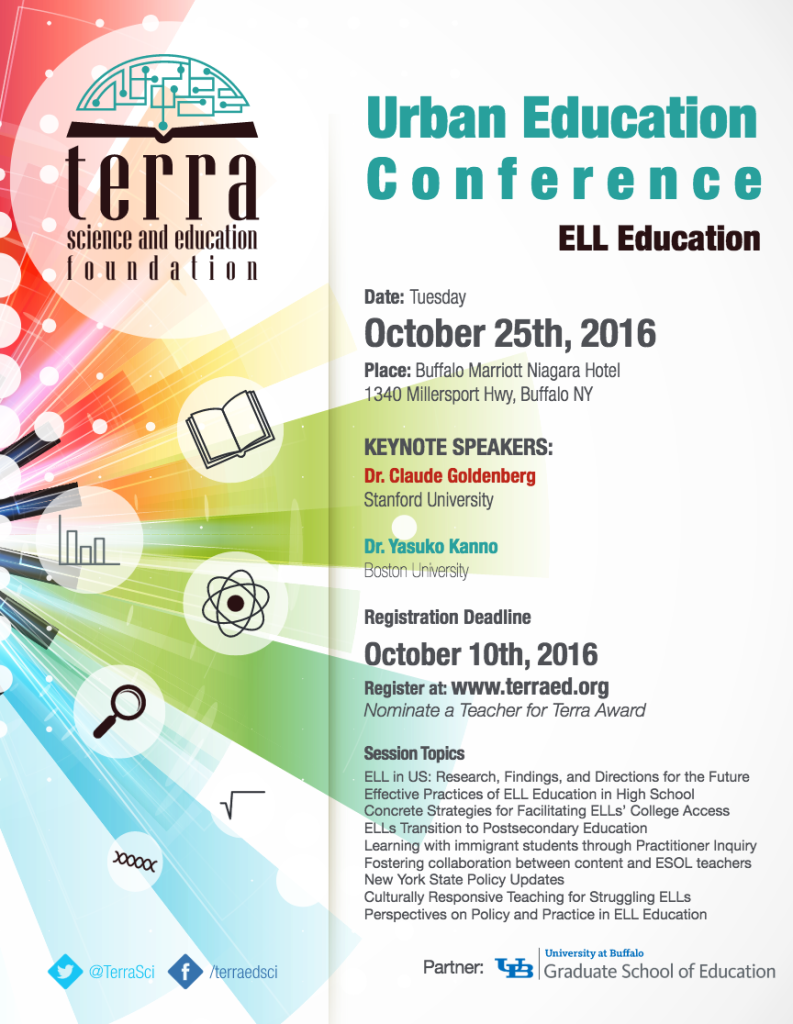 TO REGISTER: http://www.terraed.org/index.php/applyonline [Deadline for the Best Registration Price: October 10, 2016]
TO VIEW SCHEDULE: http://www.terraed.org/index.php/program-3/schedule-3
TO LEARN MORE:  http://www.terraed.org/index.php/program-3